Testimonials & Studies
Reading, Learning, Speech & Language
Auditory Processing, Attention Span & Focus
Sensory Processing, Communication and Socialization
Other Developmental Issues
Ghosts of Childhood
Performing Arts - Singers/Musicians
Second Language Acquisition
Skill Enhancement and Professional Development
Well Being and Quality of Life
Concussions & Traumatic Brain Injuries
Research Studies
Other Developmental Issues
We were concerned about speech delays when our son, diagnosed with CP was reaching almost 3 years of age. After 2 subsequent sessions at the listening centre, our son now spontaneously uses full sentences (of up to 8-9 words) of relevance in 2 languages...The whole family would like to thank the centre for a more balanced life: our son now sleeps throughout the night and tells us what he wants.  
---
"...Good news, I do believe that the Listening Therapy helped with Ester's neurological development"...watch a video of Ester performing in front of the audience only one year apart - what a difference!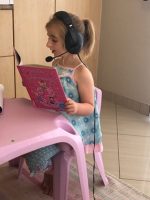 ---
...we had tried all we could to manage his volatile emotional outburst at home, his difficulties with sequencing, his inability to listen to the radio in the car or to express himself when there was music in the background. This experience of listening training gave him a boost. He is a bright boy and is now more grounded and able to reach his goals.
---
Candace is a 21 year old young woman with Cerebral Palsy and related mobility issues. Read how her Dance Instructor speaks of her observations during their sessions before and following Candace's Listening Training program at The Listening Centre...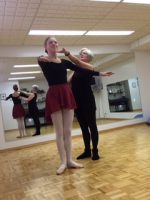 ---
My daughter Gabriela, with Rett Syndrome, began listening therapy at the early age of 2 and has been getting it consistently for the past 2 years. If Gabi's brain were a battery, listening therapy is the charger! 
---
Our daughter was formally diagnosed with Developmental Coordination Disorder. After our initial 3 week session, there was a remarkable increase in Kira's calmness.  We also noted improvement in her bilateral coordination as functional movements such as zipping up, and skipping became easier for her to do.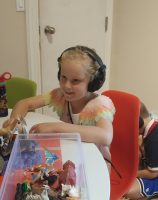 ---
After the last block we noticed improvements in his speech fluency and clarity. He's now able to speak in simple sentences and strangers are able to understand him; we can have more back and forth exchanges in conversations and he is becoming more inquisitive about things and asking questions such as "Why?" and "What is that?" and "What does that mean?" ....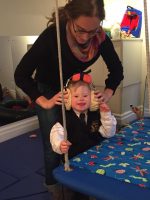 ---
I also have a child who was diagnosed at two-and a-half years old with the severe speech disorder Developmental Apraxia. With apraxia, the child has all the parts for speech and language but they are just not connected …. Our son could only pronounce vowel and two consonants when he entered the program at three-years-old … After the first intensive phase he was able to imitate several sounds … It was not long and the words started – first single syllable then multi-syllable … Three months after the second intensive phase and a one week reinforcer 'boost', Kyle was talking in 2-3 word sentences.
---
...We cannot believe how well Meg is doing!!!! We truly believe that her sensory system was more stabilized since she did the Listening Training program…Thank you!
---
...Matthew was 9 years old when he came to The Listening Centre. Matthew has Down Syndrome and had a history of ear infections. He was easily tired, had unclear speech, and he always needed instructions repeated.... 
---